Cebu Termite Control Services
Call 0916. 221. ANAY (2629)
We will take the time to properly assess your termite problem in Cebu and determine the most appropriate termite treatment in Cebu for your budget and situation.
At Jansen Pest Control Cebu Termite Control in Cebu Specialists we are termite experts, therefore it is in our best interests to eliminate the problem the first time. We are told on a daily basis how thorough we are at inspecting a property. We often find other termite infestations that other termite control companies have missed. A complete and thorough inspection is a key part to eliminating a termite colony. Failing to locate interior infestations will only result in continued frustration and difficulties with termites. If a company gives a price over the phone or does not inspect the interior of the house, that is a major red flag. Before having one of those other termite control in Cebu companies come out to treat your biggest investment (your home) give us a call, you will not be disappointed. Don't just take our word for it — read testimonials about our termite control services in Cebu. We are not salesmen, we are highly trained termite inspectors in Cebu and exterminators on a mission to educate homeowners on the proper way to control termites in Cebu. We will be honest and upfront with you and you will have a clear understanding of what it takes to properly treat your home. Plus we even provide termite control in Cebu and extermination services for property managers and rental property owners. Jansen Pest Control Cebu Termite Specialists proudly provides service throughout Cebu, Siquijor, Dumaguete and Bohol.
Our helpful and courteous technicians at Jansen Pest Control Cebu Termite Specialist in Cebu are trained in termite biology, breeding habits and the latest and most effective treatments. We are fully licensed and trained in the safe application of all treatments, which are carried our in accordance with World standards. Only products approved by the FDA/FPA and and/or Government Authorities are used. Most importantly we know termites in your local area. We have pest technicians in Cebu on the ground in the following key locations and other surrounding regions:
WARNING: SOME COMPANY INJECTS TERMITICIDE ONTO THE SOIL BY ESTIMATES ONLY. JANSEN PEST CONTROL CEBU USES FLOW METERS ON OUR INJECTORS FOR A PRECISE APPLICATION AND DOSAGE.
Cebu Termite Treatment Options
These treatments are commonly used as a preventive measure to deter termite entry into a home and also to provide ongoing protection after activity has been discovered and treated.
​
A liquid termiticide is directly applied through a wand to exposed soil next to external walls of your home. In areas where there is paving, concrete or other hard surfaces the chemical is injected through drill holes.
​
Certain types of termiticides provide a deterrent to termite entry. Other types are undetectable by termites but the chemical stays with termites which leads to either a large reduction in numbers or elimination of the colony.
​
The chemicals do break down over time. To remain effective the soil will need resprayed at least every 5 years.
Termite Barrier Types – What is the best fit for your property in Cebu?
There are more and more termite barrier types coming onto the market. So which one is the right fit for your home?
Termite Barrier Chemical in Cebu
Firstly, A chemical barrier is a full perimeter treatment around your home. This is when you dig a trench down to the footings. Where accessible this trench will go all around the dwelling. If there are obstructions like pavers, concrete paths, etc. You can remove Pavers and then trench this area as above then place the pavers back. With your concrete areas, you drill holes every 200 mm to 400mm depending on which chemical you use(to inject the chemical through). Depending on the quality of the soil in the trenched areas it is then drenched with a termiticide Preferably Termidor. The soil must be of good quality. If you have poor quality soil we will replace it with more suitable soil. You then saturate the soil with the chemical. Then you add more soil and you fill-up the trench and then you saturate it again in termiticide.
With Liquid Termite Barrier, you'll receive 100% control in less than 120 days. We'll apply a liquid treatment barrier around your home, which termites will ingest, killing them in the process. We have the barriers inspected to ensure the "treated zone" is working properly. We'll also provide a thorough interior inspection to give you added peace of mind.
​
For effective termite extermination our experienced technicians apply Termiticide along the foundation or exterior of the home thru soil injection and drilling or thru trenching. Once applied, the termiticide blends into the soil and is transferred to termites as they come in contact with the agent. The termiticide is also transferred among the termite colony as infected termites come in contact with other termites. Termiticide product kills termites both by ingestion as well as by contact.

Our termite control treatment service will terminate an existing termite infestation and protect against future occurrences.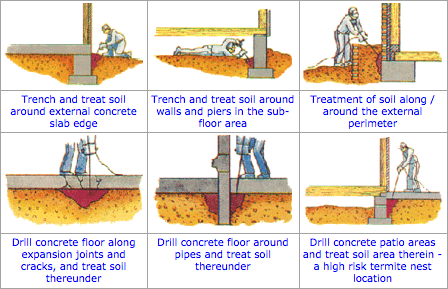 Reticulation System
Secondly, A reticulation system is similar to the above barrier type. Except you lay a pipe at the bottom of the trench. Like an irrigation pipe, it has been designed to take high-pressure termiticide and disperse it evenly through tiny holes. The trench is backfilled and drenched as per the above barrier. This system a great termite barrier. So when you need your system renewed the cost is dramatically reduced. As all your labor content is not needed. There are refill points every 10 to 12 meters where the Pest Controller just plugs in his pump and refills the system. The cost to recharge the barrier is a fraction of the installation price.
Termite Baiting System in Cebu
The technology to kill termites using baits is now widely available. Instead of injecting chemicals into the soil which will only last a few years and potentially contaminate the environment, termite baits are placed directly into the ground around the outside of a structure. Termite baiting is simple and can also be used as a preventive measure to detect termites before they become a problem. Termite baiting allows termite control in situations where the structure is untreatable with soil termiticides, there is concern about pesticide use and/or in structures where soil treatments have failed.
HOW DOES TERMITE COLONY BAITING WORK ?
Termite baiting works by killing the workers in the termite colony. When the worker termites have been eliminated, the colony is starved of food and goes into a suppression phase or "decline". The reproductives, queens and soldiers die of starvation because they cannot feed themselves. When the queens and reproductives cannot eat because there are no workers to feed them, they die and the termite colony starves and is virtually eliminated. To effectively bait for termites, a pre-baiting strategy must be implemented:
In order to establish a feeding connection with the termite colony, the scout termites have to locate a food source and the worker termites must feed on it. Termites eat wood and cellulose, nothing else. In the early stages of the pre-baiting process, the termite scouts or foragers will find the bait stations and "tag" them with a "pheromone" which is a scent trail for the worker termites to follow. Next, the worker termites will follow the pheromone trail established by the scout termites and begin feeding. This process establishes the feeding cycle with the termite colony.
​
Termite detector stations - often called monitors or just termite bait stations, are specifically engineered to encourage termite feeding and to establish a feeding connection with the termite colony. It has been said that termite detector stations are "windows" to the termite colony. It is important that a solid feeding connection be established in an area where the termites can continually feed without disturbing them. That is the reason that Termite detector stations were developed. Termite detector stations only contain wood. This wood is called detection wood or "interception" wood. It only serves to establish a feeding cycle with the scout and worker termites so that a toxicant can later be used. When a solid feeding connection has been established with the worker termites, the wood can be replaced with a toxic substance that the termites cannot detect, which kills them. When the worker termites die, the colony cannot feed itself, so the termite population slowly starves, dies and the colony eventually crashes. There are several different bait station designs pictured below. They are all equally capable of establishing a termite feeding cycle. Ease of use is what is important.
Step 2 - Using Toxicant (Growth Hormone)
After the worker termites have begun feeding and a solid connection is established through the worker termites with the colony, a growth hormone is placed inside the feeding station. The termites are continually fed this hormone until the feeding stops. The length of the feeding cycle and the amount of hormone used depends on the termite population and the size of the colony(s).
Step 3 - Termite Colony Control
When enough worker termites have been killed 2 things happen. First, the delivery of outside food sources to the colony is eliminated and second, the colony depletes its internal food sources. This causes the queens, kings, soldiers and reproductives within the colony to slowly starve. The worker termites directly feed the soldiers and the queens. Without the worker termites, the colony cannot feed itself, and will soon exhaust it's food supply. When all food sources have been depleted, the colony begins its decline. This is the goal of termite baiting. Termite baiting is really a simple process, but can be confusing since there are so many bait products to choose from. The bottom line is that all termite bait systems work. Some take longer than others to achieve control.
Termite Baiting System in Cebu Installation Procedures by Jansen Pest Control Cebu
termite baiting system components are prepared: Above ground stations, In ground stations and termite bait
Above ground stations are installed on infested areas identified in step 1 by using small screws or duct tape to hold it in place and sometimes cellulose paste is applied to draw termites into the stations
with the Above ground station in place, termite bait cartridge containing a slow acting toxicant mixed with attractants is placed on the slot and closed, ready to start termite feeding until the next inspection.
In-ground Termite Interceptors are assembled. It contains timber interceptors to direct termites scavenging on the ground into it.
In-ground interceptors are embeded on the soil along the perimeter of the property to be protected at intervals of 5-8 meters
Where property is surrounded by concrete or tiled, In-concrete termite interceptors are installed by coring on the concrete
An Above-ground station active with intercepted termites feeding on the bait
An In-ground termite interceptor with termite activity. Note the mud that sticks to the cap
In-concrete termite interceptor installed on a tiled pavement. It blends well with color of the tiles